ST16C554DIQ64-F -
2.97V to 5.5V Quad UART with 16 Byte FIFOs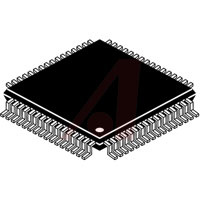 声明:图片仅供参考,请以实物为准!
由于产品数据库庞大,部分产品信息可能未能及时更新,下单前请与销售人员确认好实时在库数量,谢谢合作!
ST16C554DIQ64-F产品概述
The ST16C554/554D (554) is a quad Universal Asynchronous Receiver and Transmitter (UART) with 16 bytes of transmit and receive FIFOs, selectable receive FIFO trigger levels and data rates of up to 1.5 Mbps. Each UART has a set of registers that provide the user with operating status and control, receiver error indications, and modem serial interface controls. An internal loopback capability allows onboard diagnostics. The 554 is available in a 64-pin LQFP and a 68-pin PLCC package. The 64-pin package only offers the 16 mode interface, but the 68-pin package offers an additional 68 mode interface which allows easy integration with Motorola processors. The ST16C554CQ64 (64-pin) offers three state interrupt output while the ST16C554DCQ64 provides continuous interrupt output. The 554 combines the package interface modes of the 16C554 and 68C554 on a single integrated chip.

Features:

Pin-to-pin compatible with the industry standard ST16C454, ST68C454, ST68C554, TI's TL16C554A and Philips' SC16C554B

?Intel or Motorola Data Bus Interface select

Four independent UART channels

Register Set Compatible to 16C550

Data rates of up to 1.5 Mbps at 5 V

Data rates of up to 500 Kbps at 3.3V

16 byte Transmit FIFO

16 byte Receive FIFO with error tags

4 Selectable RX FIFO Trigger Levels

Full modem interface

2.97V to 5.5V supply operation

Crystal oscillator or external clock input
ST16C554DIQ64-F参考库存及参考价格
136 can ship immediately.
有货可于1-2周内送达
英国2号仓库直销,订单金额100元起订,满300元含运,满500元含税运,有单就有优惠,量大更优惠,支持原厂订货
CNY
179.1
| | |
| --- | --- |
| 数量 | 参考价格 |
| 1 + | ¥179.1 |
| 10 + | ¥170.1 |
| 25 + | ¥161.67 |
| 50 + | ¥154.23 |
| 100 + | ¥145.09 |
| 250 + | ¥132.65 |