AKW5111 -
Eco-Power Meter, 100-120/200-240V AC, Dedicated CT type, Screw Terminal Type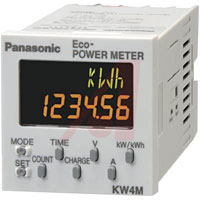 声明:图片仅供参考,请以实物为准!
制造商:

制造商产品编号:

AKW5111

仓库库存编号:

70036132

技术数据表:

Datasheet
由于产品数据库庞大,部分产品信息可能未能及时更新,下单前请与销售人员确认好实时在库数量,谢谢合作!
AKW5111产品概述
Features

Letters are easy to read with 16-segment LCD

Instantaneous electrical power/Integrated electrical energy

Since "Instantaneous electrical power" can be displayed, you can instantly verify the power being used at the current time.

Current (L1/L2)

Voltage (1-2/2-3)

Electricity charge (yen/dollar/euro/yuan)

Charge display supports four currencies: yen, dollar, euro, and yuan.

Load time (ON/OFF)

Since an hour meter function is built in, you can measure the power-on time that is over or under the control current.

Count value/Preset value

A counter function is built in. By using this "pulse input", surveillance other than the electrical power is possible of the integrated energy in the air or a gas.
AKW5111客户还购买了
参考图片
制造商 / 说明 / 型号 / 仓库库存编号
PDF
缓存库存数
操作
AKW5111缓存库存及参考价格
0 can ship immediately.
有货可于1-2周内送达
英国2号仓库直销,订单金额100元起订,满300元含运,满500元含税运,有单就有优惠,量大更优惠,支持原厂订货
CNY
5231.82
| | |
| --- | --- |
| 数量 | 价格 |
| 1 + | ¥5231.82 |
| 3 + | ¥4970.22 |