69355 -
Crimper; HHHT Ratchet; Butt, Parallel Splices, STRATO-THERM, Flag Terminals; 8 AWG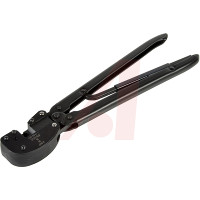 声明:图片仅供参考,请以实物为准!
制造商产品编号:

69355

仓库库存编号:

70089899

技术数据表:

Datasheet
由于产品数据库庞大,部分产品信息可能未能及时更新,下单前请与销售人员确认好实时在库数量,谢谢合作!
69355产品概述
TE Connectivity CERTI-CRIMP Hand Crimping Tool for SOLISTRAND and STRATOTHERM Terminals

CERTI-CRIMP hand crimping tool for crimping SOLISTRAND and STRATOTHERM terminals onto 8 AWG solid or stranded copper wire. This CERTI-CRIMP hand crimp tool has indenter and nest dies and a CERTI-CRIMP ratchet which stays locked until the handles of the crimp tool are completely closed ensuring the terminal is fully crimped.
69355客户还搜索了
参考图片
制造商 / 说明 / 型号 / 仓库库存编号
PDF
参考库存数
操作



5237 can ship immediately.

10000 on order.

可于1-2周内送达
1 + ¥1.46
更多参考价格信息...
69355参考库存及参考价格
15 can ship immediately.
有货可于1-2周内送达
英国2号仓库直销,订单金额100元起订,满300元含运,满500元含税运,有单就有优惠,量大更优惠,支持原厂订货
CNY
14871.06