SESD0201C-006-058 -
ESD Protector, Overvoltage Protection Device, Silicone, 5.8V, 0.6pF, 1.0uA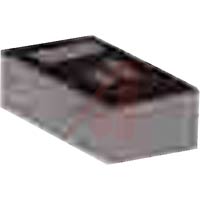 声明:图片仅供参考,请以实物为准!
制造商产品编号:

SESD0201C-006-058

仓库库存编号:

70059954

技术数据表:

Datasheet
由于产品数据库庞大,部分产品信息可能未能及时更新,下单前请与销售人员确认好实时在库数量,谢谢合作!
SESD0201C-006-058产品概述
Benefits:

Small Size Bidirectional ESD Protection Diodes

Appropriate for ESD Protection in Space-Constrained Portable Electronics and Mobile Handsets

Bidirectional Operation Allows Placement on PCB without Orientation Constraint

Helps Protect Electronic Circuits Against Damage from Electrostatic Discharge (ESD) Events

Assist Equipment to Pass IEC61000-4-2, Level 4 Testing

RoHS Compliant and Halogen Free
Features:

Input Capacitance: 12 pF (Typ.)

Low Leakage Current: 1.0 μA (Max.)

Low Breakdown Voltage: 5.8 V (Min.)

ESD Maximum Rating Per IEC61000-4-2 Standard: - ±8 kV Contact Discharge - ±15 kV Air Discharge

Capable of Withstanding Numerous ESD Strikes

Small Package Size: 0.60 mm × 0.30 mm

Low Package Height: 0.27 mm
Applications:

Cellular Phones and Portable Electronics

Digital Cameras and Camcorders

Keypads, Pushbuttons, Low Voltage DC Lines, Speakers, Headphones, Microphones

Applications Requiring ESD Performance in an Ultrasmall Package
SESD0201C-006-058参考库存及参考价格
0 can ship immediately.
有货可于1-2周内送达
英国2号仓库直销,订单金额100元起订,满300元含运,满500元含税运,有单就有优惠,量大更优惠,支持原厂订货